LoRaWAN 868 – 900/915 – 433MHz
Protocol: LoRaWAN 1.0, Class A
LoRaWAN – ready
Frequency:
LoRaWAN 868/433 modules: 868 MHz and 433 MHz ISM bands
LoRaWAN 900 module: 900-930 MHz ISM band
TX Power:
LoRaWAN 868/433 modules: 14 dBm
LoRaWAN 900 module: 18.5 dBm
Sensitivity: -136 dBm
Range: >15 km at suburban and >5 km at urban area. Typically, each base station covers some km. Check the LoRaWAN Network in your area.
Radio data Rate:
LoRaWAN 868/433 modules: 250-5470 bps
LoRaWAN 900 module: 250-12500 bps
Receiver: purchase your own base station or use networks from LoRaWAN operators
Note: 0dB antenna picture with representative purposes only. The provided antenna is bigger and with better performance: 4.5dB
Request quotation
How it works:
"Waspmote sensor nodes are extremely energy efficient, intended for massive deployments in cities and the industrial IoT," said David Gascón, Libelium CTO and co-founder. "Our sensor platform is a perfect fit for purpose-built LoRaWAN, designed to carry complex data that characterizes Smart Cities applications, and thereby enable connectivity for the billions of devices and sensors predicted for the IoT."
Libelium's LoRaWAN radio module is fully integrated with the Waspmote sensor platform and is also available as an upgrade for all existing Waspmote sensor devices. Waspmote Plug & Sense! devices offer easy network configuration for smart cities applications to monitor environmental factors, noise pollution, water quality, as well as parking, and smart lighting applications. Paired with Libelium's LoRaWAN module, Waspmote Plug & Sense! received CE marking earlier this month, making it the first horizontal sensor platform certified for use in Europe.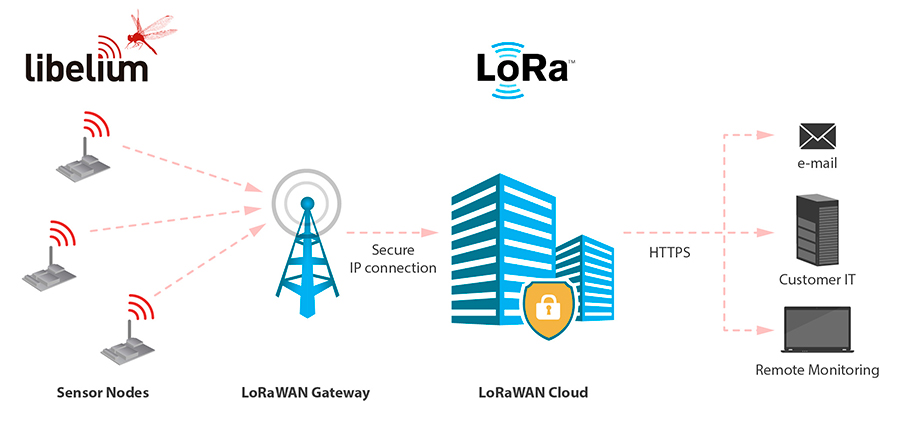 Waspmote LoRaWAN Integration
Libelium is a member of the LoRa Alliance, and is building an ecosystem with partners providing LoRaWAN solutions that are compatible with Waspmote. In addition to Kerlink gateway compatibility as a turnkey solution, Waspmote LoRaWan sensors offer out-of-the-box connectivity with Actility, and network deployment and management capability with Loriot and Orbiwise backends. Please consult Libelium's commercial department for further information.