Sigfox
Frequency:
Sigfox 868 module: ISM 868 MHz
Sigfox 900 module: ISM 900 MHz
TX Power:
Sigfox 868 module: 16 dBm
Sigfox 900 module: 24 dBm
Receive sensitivity: -126 dBm
ETSI limitation: 140 messages of 12 bytes, per module per day
Range: Typically, each base station covers some km. Check the Sigfox Network
Radio Data Rate: 100 bps
Sigfox certificate: Class 0u (the highest level)
Note: 0dB antenna picture with representative purposes only. The provided antenna is bigger and with better performance: 4.5dB.
Request quotation
Libelium's Sigfox module is now fully integrated in the Waspmote sensor platform and is also available for customers as an add-on to upgrade existing Waspmote devices. The Waspmote OEM line allows developers to prototype a wide range of applications; Waspmote Plug & Sense! devices offer easy network configuration for applications such as Smart Cities, environmental control, or parking.
How it works:
"Modularity, scalability, and interoperability are key to building the IoT. Specialized narrowband connectivity via Sigfox can give an immediate solution for many IoT and Smart Cities use cases, where wireless sensors need to be autonomous and transmit over long distances," said David Gascón, Libelium CTO and co-founder.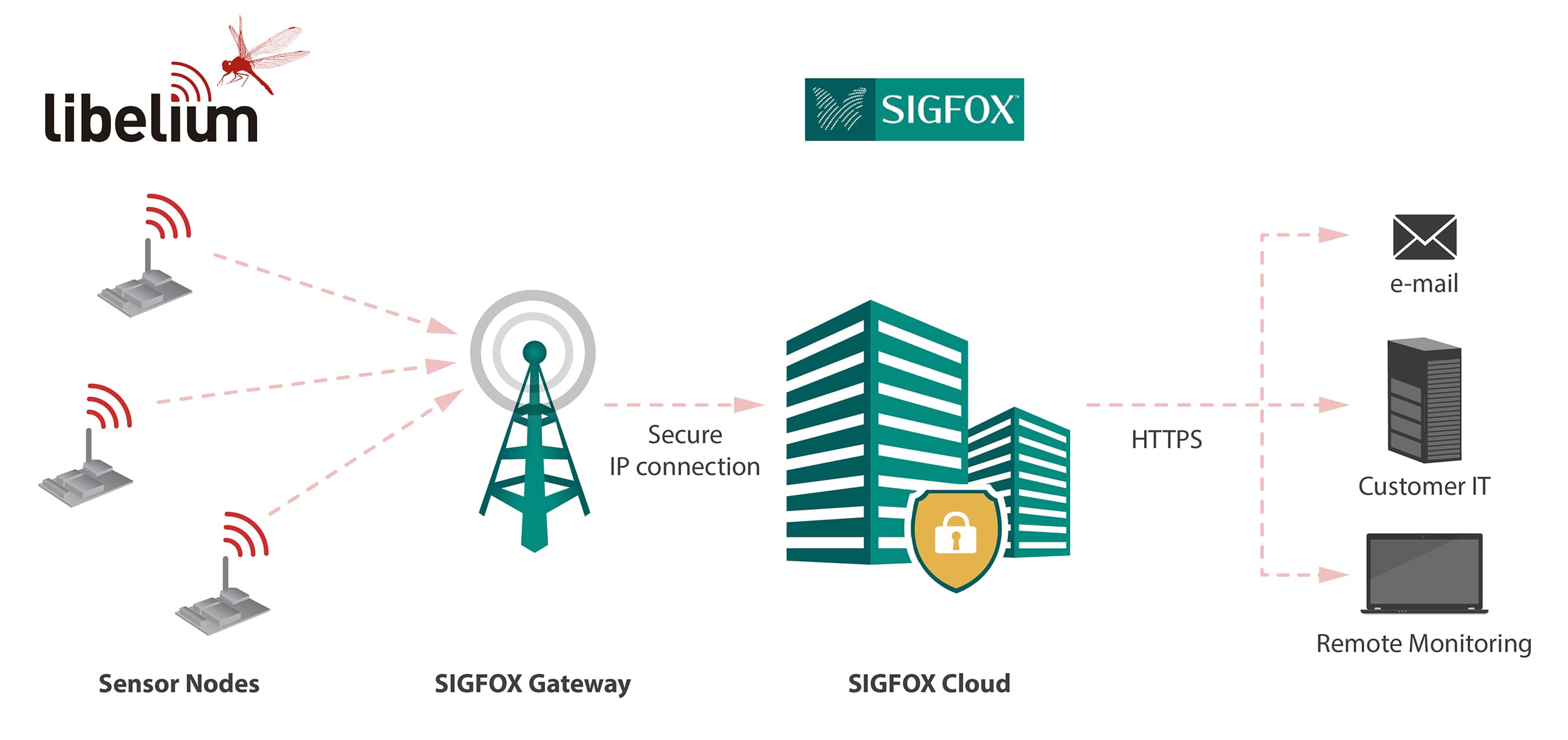 Waspmote Sigfox Integration
"We are deploying a global network that makes it simple to connect devices anywhere in the world—and monetize the data from those devices," said Stuart Lodge, Sigfox EVP of global sales and partners. "We welcome Libelium into our open partner program; their innovative sensor devices will accelerate the development of industrial applications and business".